Chilled water systems are a remarkable feature of the boating industry, and they make excellent use of readily available materials. These systems operate by circulating cold freshwater in the vessel through pipes and releasing the cold air through blowers.
It's critical to find a professional who can assist you in selecting the appropriate chilled water systems, including sizing, components, installation, and maintenance. With offices centrally located in Stuart Florida, Air Tight Marine Air Conditioning has over 35 years of experience around the world.
We know how to stay cool as the Treasure Coast largest marine air conditioning, refrigeration, and water maker vendor.
Advantages of Chilled Water Systems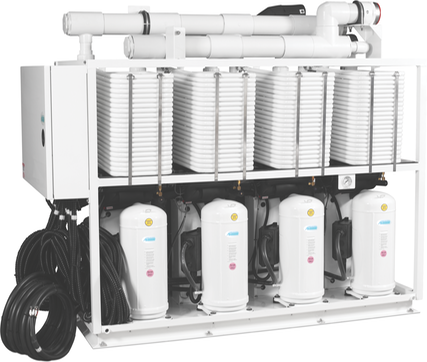 Once you've determined that your boat is ready for a chilled water device, Air Tight Marine Air Conditioning will assist you in finding the right model for your boat. We have a lot of experience designing and engineering chilled water requirements. We take into account the load power, desired level of comfort, and cabin space. In certain cases, what works in one boat can not work in another.
Chilled Water Systems in Stuart, Hobe Sound, Tequesta, Jupiter, West Palm Beach Florida
We make certain that the systems we have can withstand the harsh conditions found in Southern Florida and at sea. In Stuart, Jupiter and West Palm Beach, FL., we've worked with a variety of boat sizes. The air conditioning specifications of each boat are special. We have units ranging in output from 16,000 BTU/hr to 180,000 BTU/hr that can be combined to produce even more output. With heavy-duty factory-installed seals, our devices are resistant to ambient temperatures and moisture.
Chilled Water System Parts and Accessories
We'll assist you in finding quality equipment to go with your chilled water system, also known as a chilled water air conditioning system or a marine water chiller, once it's been installed. Pumps, cabin controllers, and air handlers come in a number of versions. All control details and decisions are stored in a convenient place by our cabin controllers and chilled water controllers.
24-Hour Service, Anywhere and Anytime
With qualified technicians on hand, we provide dockside assistance 24 hours a day, 7 days a week. They're also EPA-certified in refrigerant recovery and can service all big air conditioning brands, including chilled water systems. 
Air Tight Marine Air Conditioning is a member of the Marine Industries Association and the American Boat and Yacht Board, and is registered, insured, and in good standing.
Contact us today to learn more about adding a chilled water system to your cruise.
Come find us at
Willis Custom Yachts
Floridas Premier Custom Yacht Builder
& Marine Service Facility
6800 SW Jack James Drive
Stuart, FL 34997
STATE LICENSE# CAC1818412