SELF CONTAINED AIR CONDITIONER
Comfortable cabin space is a necessity in South Florida, and in many places across the globe. Even if you don't already have an AC system, Beard Marine Group can help you add a self-contained AC unit requiring less time and space than you think. Our customers often tell us they're glad they did. And with all the parts, units and service we have at our West Palm Beach and Fort Lauderdale locations, we're ready to get you started!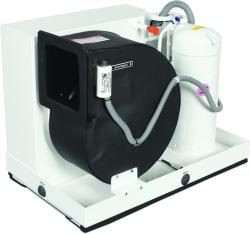 Self Contained AC Unit for Smaller Spaces
Self-contained AC units are most popular for smaller boats as they can be conveniently installed under bunks, sofas or in a locker. These marine air systems are available in cooling only models or with reverse cycle to heat as needed. Self-contained models require less power and can be ducted to more than one room if desired. Some of the models we carry can deliver 16,000 BTU/hr of cooling with a height of just 8 inches (203 mm). Other units can go as high as 30,000 BTU/hr.
Self Contained Air Conditioners
Many owners either buy boats new without air systems or used boats that never had the need for one reason or another. Once on the water, owners find that a self-contained air conditioner would greatly add to their boating experience even if they have a smaller boat or never thought they would need one. A self-contained system is also a popular choice for owners looking to upgrade their boat due to low cost of the system and installation.
24-Hour Service Available
We offer 24-hour dockside assistance with experienced technicians for both repairs and installation services. Self-contained air conditioning units will need additional supplies including, ducting, water pump, and grilles for a complete system. Our technicians are EPA certified in refrigerant recovery and can repair all major brands of air conditioning including self-contained and split gas units. Beard Marine is licensed, insured and a member in good standing with Marine Industries Association and the American Boat and Yacht Council.
Finding a Marine Air System to Make Your Boat More Comfortable is our Goal
No boat is too small or too big for a self-contained marine AC unit. Regardless of size, we can help you select the model that will work for your specific application considering space availability and needs, simply get in touch with us today. We can also help you in selecting the right parts and supplies to finish your system. Our two offices in Fort Lauderdale and West Palm Beach can service anywhere in between including Miami, Aventura, and Hollywood.