Air Tight Marine AC specializes in all marine air conditioning systems and installations, from cruisers to mega yachts. From self-contained systems to multi-staged chiller plants, we provide a wide range of services. We have factory-trained and EPA-licensed personnel on hand to satisfy all of your marine air conditioning needs. Our factory-trained, EPA-licensed workers will install both self-contained and split direct expansion equipment in addition to chilled water systems. For more details, send us an email today. We eagerly await your answer. Warranty Provider:
Marine AC, Air Conditioning, and Marine Air Systems in Stuart, Hobe Sound, Tequesta, Jupiter, West Palm Beach Florida
On your boat or yachting trip, air conditioning will make all the difference in terms of comfort. If you use your boat for short day trips or for extended periods of time, you understand the value of providing enough cabin space.
Marine air systems can make any enclosed space more comfortable, and Air Tight Marine Air Conditioning is the company to call.
After all, we're the Treasure Coast's largest marine air conditioning, water manufacturer, and refrigeration sales and service business. For over 35 years, we've been assisting customers in outfitting and enjoying their vessels.
Split systems are preferred by larger boats with separate engine rooms because the condensing unit and air handler are located in separate locations. These units produce less noise in living areas and have a wider range of air handler options.
These marine air systems have come a long way since their conception. The days of split air systems suffering from inefficiencies or moisture disruption are long gone. Advanced material choices are now available that are more energy efficient and offer cool air with rust-proof specifications for long-term use.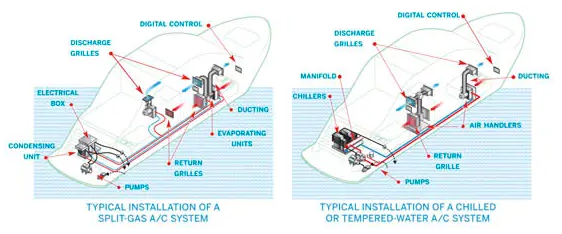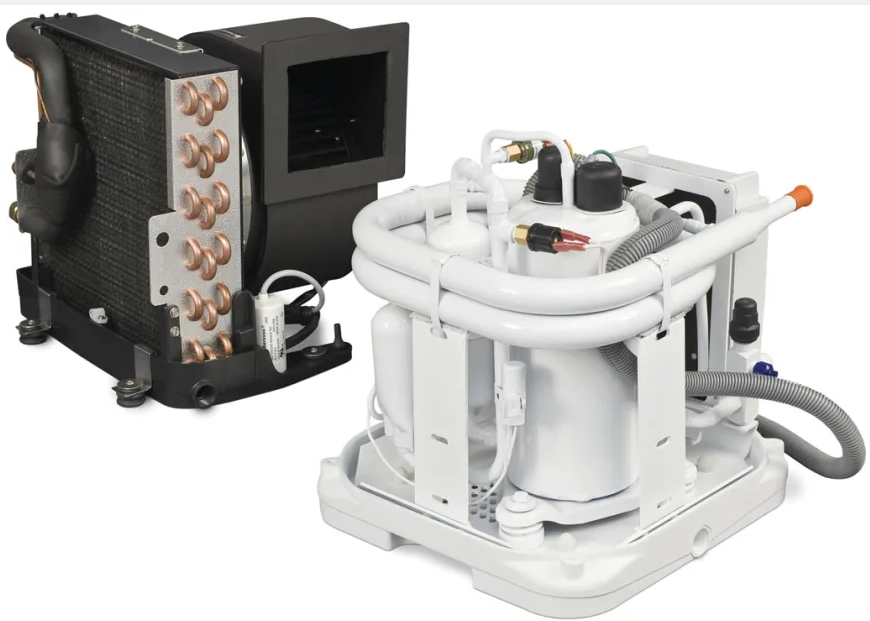 Marine Air Systems Parts and Supplies
The units and air handlers are just part of an air conditioning system. The overall air system needs pumps, grills, evaporating units, ducting, and digital controls. Air Tight Marine Air Conditioning has all of the equipment you'll need to install a new air conditioning system or repair an existing one. Based on your requirements and cabin capacity, we will decide the appropriate unit size and quantity, as well as the parts list for your installation.
Marine AC Service Available 24-Hours A Day in and around Stuart, Hobe Sound, Tequesta, Jupiter, West Palm Beach Florida
With qualified technicians on hand, we provide dockside assistance 24 hours a day, 7 days a week. They are EPA-certified in refrigerant recovery and can service all major air conditioning brands,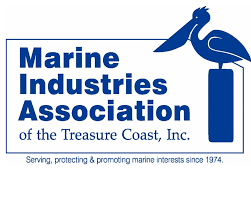 including self-contained and split gas systems. 
Air Tight Marine Air Conditioning is a member of the Marine Industries Association and the American Boat and Yacht Board, and is registered, insured, and in good standing.
Our goal is to find the right marine air system to make your boat more comfortable.
Don't let a scorching day keep you from enjoying your cruise. Even if you're outside, parts of your enclosed space can become too hot. Some people "feel hot," while others tend to stay in air-conditioned environments, and still others actually overheat more than others.
Allow Air Tight Marine Air Conditioning to assist you in locating the air system that best suits your requirements and climate.
Our convienetly located office in Stuart Florida enables us to easily serve, Hobe Sound, Tequesta, Jupiter,  and West Palm Beach Florida To learn more, please contact us today.
Come find us at
Willis Custom Yachts
Floridas Premier Custom Yacht Builder
& Marine Service Facility
6800 SW Jack James Drive
Stuart, FL 34997
STATE LICENSE# CAC1818412