WATERMAKERS/SEA AND FRESH WATER
When you need fresh water, Air Tight Marine Air Conditioning is the premiere distributor of FCI watermakers in South Florida.  
Boat Water Makers and Marine Water Makers in Stuart, Hobe Sound, Tequesta, Jupiter, West Palm Beach Florida
Enable the experts with over 35 years of experience to assist you in finding the right marine water maker for your needs. We have a wide selection of water makers to fit a variety of outputs, storage capacities, and preferences. We also sell components, filters, and dockside service 24 hours a day, 7 days a week. We serve all areas in boating capital of the Treasure Coast, from our offices in Stuart FL, but our services are available anywhere nationally or internationally.
Here are some of the factors that will help us in our quest for the ideal marine water maker: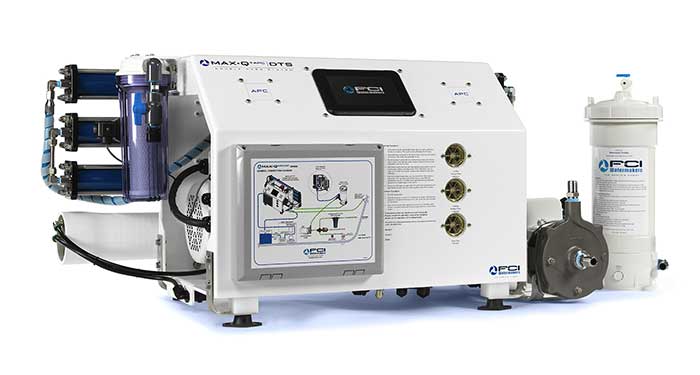 There are options for all types of budgets. We have boat water makers that can comfortably accommodate four to 300 passengers on yachts, oil rigs, and commercial vessels that need professional-grade units. We have all your boat wants.
Marine Water Makers from Small to Large Capacity
Your water maker unit is determined by more than just the size of your boat. Your preferences and requirements also play a part. We have marine water makers varying in capacity from 7 to 283 gallons per hour. Our office will assist you in deciding what will best satisfy your fresh water needs.
Fresh water showers or fresh water to supply a traveling party can be all that is needed. Provide us with the details of your requirements, and we'll suggest a unit that suits your budget and available space.
Boat Water Makers Key Features to Match Your Needs
Let us know what's important to you at Air Tight Marine Air Conditioning. Although we all know that a boat water maker is important, it isn't the reason you're out on the water.
We'll suggest a device that won't be heard if you want peace and quiet. We'll find you a device with auto monitoring if you're too preoccupied with deck tasks.
We also have touchscreen units for added comfort and power.
Finding your Ideal Marine Water Maker or Boat Water Maker is our Goal
Our customers use the water for a number of purposes. Some people seek the thrill (or tranquility) of sport fishing. Some people enjoy entertaining or spending time with their families. Some people just want to hear the wind blowing the sails. Allow Air Tight Marine Air Conditioning to assist you in locating the boat water maker that best suits your requirements and climate. Call our local office serving Stuart, Hobe Sound, Tequesta, Jupiter, West Palm Beach Florida.
Come find us at
Willis Custom Yachts
Floridas Premier Custom Yacht Builder
& Marine Service Facility
6800 SW Jack James Drive
Stuart, FL 34997
STATE LICENSE# CAC1818412